Background
The Society of Photo- Optical Instrumentation Engineers (SPIE estimated that the optoelectronics (photonics) marketplace for components and systems reached $725 billion in 2020 in a wide range of market segments. The opportunities are great, but not without significant risks. An interesting statistic is that 75% of business failures are due to poor market understanding or the inability to manufacture quality products in a timely manner. To be successful in technology commercialization, in addition to technology, several other business building blocks are required as shown in the figure below: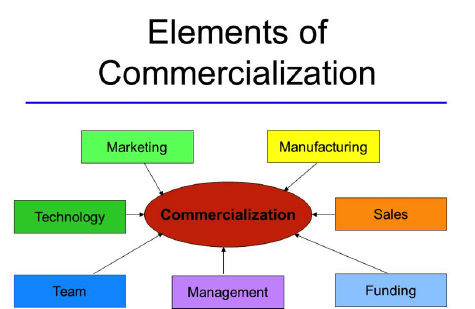 Therefore, it is clear that good reproducible technology is only one of several critical elements for effective commercialization. To be successful in this diverse market arena, it is important to have a clear understanding of the market dynamics including market size, competitive environment, barriers and the potential for product differentiation. There are other important elements as well; including sales, manufacturing supported with manufacturing engineering, the team with the management skills to implement the business opportunity and funding. Funding is engine that drives the opportunity. In general, these elements are not just required, but required early in the business development cycle.
Business experience is often the key ingredient that can turn high risk failure situations to success. Having access to experienced managers in an advisory role can circumvent many potential pitfalls on the commercialization path.
The charter for Light Wave Venture is to assist companies along the path to success in the development of business opportunities in photonics and successfully maneuver through the business and market environment.
A key question is can entrepreneurial skills be taught that foster commercialization? The answer is an emphatic yes! While not all employees will be classical entrepreneurs, all can benefit from understanding the elements that are involved with entrepreneurship, innovation and ultimately successful commercialization. The company benefits with better products that meet customer needs in a timely manner and the employee benefits from being more effective at his or her job.
Light Wave Venture initially taught a "Commercialization of Photonics Technology" course at the graduate school at Yale University. Recently, the course has been taught at SPIE's Photonics West Conference and at various companies.
Light Wave Venture was established in 1999, but its management has been in photonics for over 55 years. Over that period, the photonics industry has seen its share of tumultuous years. Since the company was founded, it has assisted 134 companies ranging from startups to large multi-billion-dollar corporations. Light Wave Venture has been involved at the founding level with several new companies. It specializes in developing early and mid-stage companies by providing assistance in funding, direct management services and acquisitions that help facilitate the necessary ingredients for commercialization. However, large companies have also found this expertise very helpful.
Light Wave Venture has helped companies build a focused platform that can be the foundation for a "pure play" market opportunity or the basis for a common technology platform that can service a diversity of market applications.